⎯⎯⎯⎯⎯⎯⎯⎯⎯⎯⎯⎯⎯⎯⎯
COMMISSIONS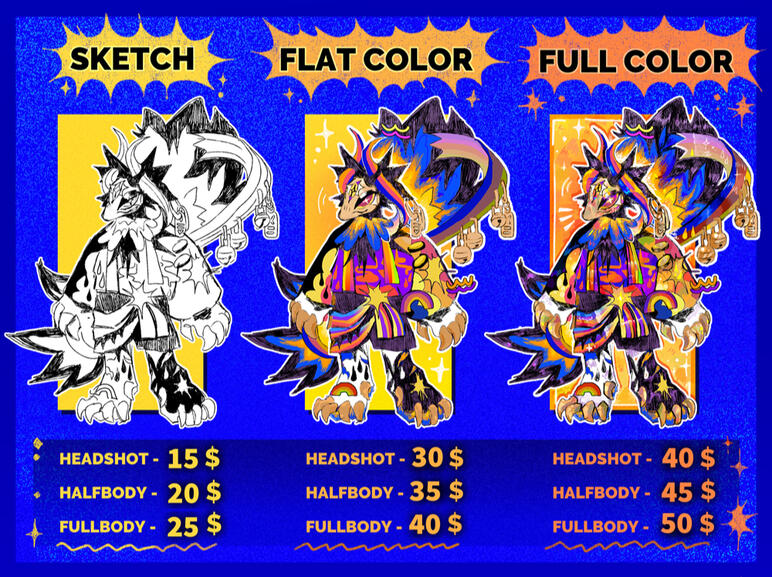 SKETCH
HEADSHOT $10
HALFBODY $15
Fullbody $20
ㅤㅤFLAT COLOR
HEADSHOT $15
HALFBODY $20
Fullbody $25
FULL COLOR
HEADSHOT $20
HALFBODY $30
Fullbody $35
︿︿︿︿︿
+HALF BASE PRICE FOR EACH ADDITIONAL CHARACTERS•The characters can be ocs or already existing characters from series, video games or movies•you must provide pictures or a reference of the character so i can draw them . No descriptions by text without pictures allowed•if you wish to get an Illustration or specific drawings (banners, poster illustration, sprites for games, minecraft skins...) we may discuss the price in dms•CONTACT ME ON INSTAGRAM OR DISCORD IF YOU'RE INTERESTED•
⎯⎯⎯⎯⎯⎯⎯⎯⎯⎯⎯⎯⎯⎯⎯
CUSTOM DESIGNS
$45
Making a design based on a specie, themes and pictures that you send me !if you wish to get a specific design or redesign of a character we may discuss the price and details in dms ︿︿︿︿︿︿︿︿︿︿︿︿︿︿︿︿︿︿︿︿︿︿︿
【WHAT TO SEND WHEN ASKING FOR A CUSTOM DESIGN ?】⁎the specie of the design that you want (monster, skeleton, human, furry, dragon, wolf...)⁎If you want it to be feral or anthro (will the design stand on 4 or 2 legs.).⁎one or more pictures which i will get inspired of to make my design (Moodboard and Pinterest boards are recommended)︿︿︿︿︿
【 OPTIONAL】⁎ An adjective to describe the design that you want (normal, cute, scary,...)• Send me one or more themes to make the design (it can literally be anything)• You can request any characteristic for your character (object head, multiple eyes / limbs,...).• I can make characters based on species / designs from video games, especially Undertale, Deltarune, Minecraft, Pokemon and Cookie Run because i LOVE those games.︿︿︿︿︿
【ONCE YOU GET THE FINAL DESIGN...】·• The design belongs to you ! feel free to use it or not, ship it , make a story for it... you can also change the design if you want.• DO NOT sell my designs. Giving the design to another person for free is allowed.• If my art is posted somewhere else please credit me by using my carrd (alinespice.carrd.co) or instagram (aline.spice)Thank you •CONTACT ME ON INSTAGRAM OR TUMBLR IF YOU'RE INTERESTED•
⎯⎯⎯⎯⎯⎯⎯⎯⎯⎯⎯⎯⎯⎯⎯
WHAT I WILL DRAW / Won't DRAW
I WILL DRAW ♥• All species (animals, Humans, monsters, Furries, ...)• Characters from movies, fandoms and video games• Gore, body horror and nudity.
I WON'T DRAW ✘• Mechas with lots of detail•COMPLEX BAckgrounds -for now-•Ship art or nudity involving real people•Ship art OR NUDITY INVOLVING UNDERAGE CHARACTERS•NSFW
⎯⎯⎯⎯⎯⎯⎯⎯⎯⎯⎯⎯⎯⎯⎯
TOS / TERMS OF SERVICE
INFORMATIONS• Commission prices may change later
• If i don't feel comfortable with something i have the right to deny a commission request.PAYMENT• I accept dollars and euros. payment is made with paypal.
• Commissions needs to be paid 100% ON PAYPAL once i accepted your commission request.
I will not start until full payment is sent.ONCE THE COMMISSION IS FINISHED• All drawings will include a small signature that won't be removed.• You are allowed to share my art where you want, edit it and use it as long as you credit me.• Commercial use of my art is not allowed.
Aline
⎯⎯⎯⎯⎯⎯⎯⎯⎯⎯⎯⎯⎯⎯⎯
SHE/HER - They /Them (18+)
FRENCH
⎯⎯⎯⎯⎯⎯⎯⎯⎯⎯⎯⎯⎯⎯⎯
ㅤ
i love sweet potato soup and spices.
I spend most of my time drawing ocs and video game characters :)• CHECK OUT MY FRIENDS'S COMMISSIONS ! •
• eatbones.carrd.co/
⎯⎯⎯⎯⎯⎯⎯⎯⎯⎯⎯⎯⎯⎯⎯I hope you'll have a nice day
♥♡♥(ꈍᴗꈍ)♥♡♥
⎯⎯⎯⎯⎯⎯⎯⎯⎯⎯⎯⎯⎯⎯⎯
RESPONSE WILL BE FASTER IF YOU SEND A MESSAGE FROM DISCORD OR INSTAGRAM (where i'm quite active)SHARING MY CARRD LINK, SOCIAL MEDIA LINKS OR ART IS APPRECIATED :Di'm mostly inactive on twitter and facebook so i might respond to you in a VERY long time if you dm me there.