---
COMMISSIONS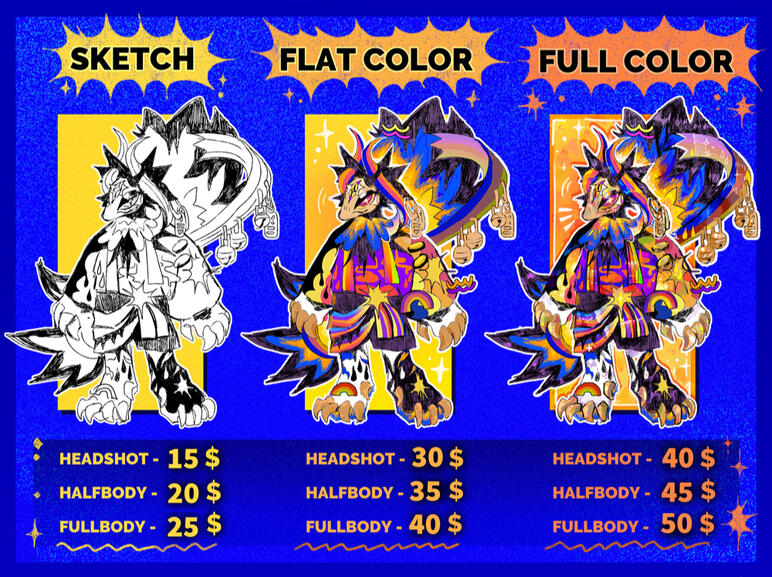 SKETCH
HEADSHOT $10
HALFBODY $15
Fullbody $20
ㅤㅤFLAT COLOR
HEADSHOT $15
HALFBODY $20
Fullbody $25
FULL COLOR
HEADSHOT $20
HALFBODY $25
Fullbody $35
-5$ FOR EACH ADDITIONAL CHARACTERS•if you wish to get an Illustration or specific drawings (poster illustration, sprites for games, minecraft skins...) we may discuss the price in dms• You can find more art examples in my gallery.
please read my TOS before commissioning me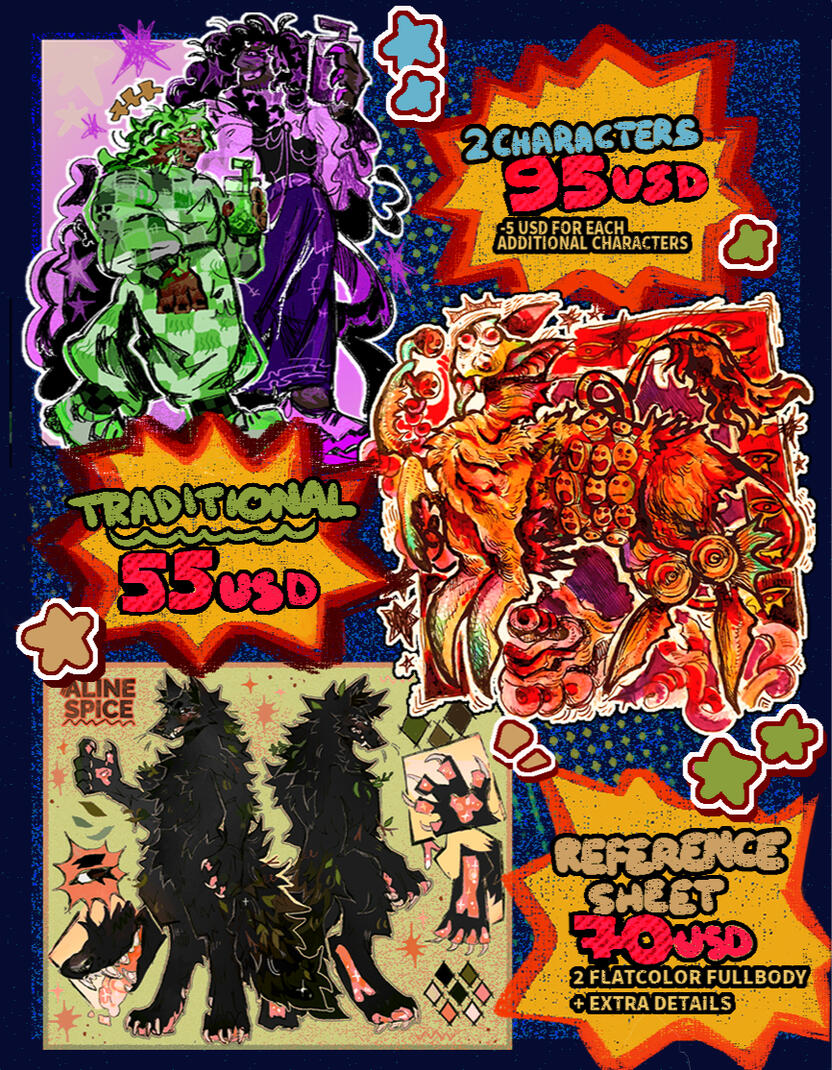 50 $
2 Flat color fullbody ( Front + Back)
with additional details (Paws, Horns, Tongue color, Eye...)
---
WHAT I DRAW / WON'T DRAW
I WILL DRAW ♥• All species (animals, Humans, monsters, Furries, ...)• Characters from movies, fandoms and video games•OCS / Original characters• Gore & body horror.
I WON'T DRAW ✘•COMPLEX BAckgrounds•Real people•NSFW
TERMS OF SERVICE (T.O.S)
INFORMATIONS
• Commission prices may change at any time during the year.
• I need a visual reference to draw a commission.
• If i don't feel comfortable with something i have the right to deny a commission request.
• Majority of commissions will be posted publicly on social medias. If you would like it to be made private, please notify me !
•I'm available for any specific drawing requests. If you need something dm me the details and i'll tell you if it's possible !
• I usually send a sketch for confirmation before starting to color the drawing, but at any time if you require information on the current state of the drawing or if you have any question you can contact me.PAYMENT
• I accept dollars and euros. payment is made with paypal.
• Commissions needs to be paid 100% ON PAYPAL once i accepted your commission request. I will not send the finished piece until full payment is sent.
• Refund not possible once the payment has been sent.ONCE THE COMMISSION IS FINISHED
• You are allowed to share my art where you want, edit it and use it as long as you credit me.
• Commercial use of my art is not allowed.
• All drawings will include a small watermark that won't be removed.
Aline
⎯⎯⎯⎯⎯⎯⎯⎯⎯⎯⎯⎯⎯⎯⎯
SHE/HER - They /Them (18+)
FRENCH
⎯⎯⎯⎯⎯⎯⎯⎯⎯⎯⎯⎯⎯⎯⎯
ㅤ
i love sweet potato soup and spices.
I spend most of my time drawing ocs and video game characters :)• CHECK OUT MY FRIENDS'S COMMISSIONS ! •
brewedbones.carrd.co
⎯⎯⎯⎯⎯⎯⎯⎯⎯⎯⎯⎯⎯⎯⎯I hope you'll have a nice day
♥♡♥(ꈍᴗꈍ)♥♡♥